Contact and Appointment Details
Contact Bronwyn Jest Physiotherapy for an appointment to start your pelvic floor rehabilitation today.
Bronwyn is available for appointments on
Monday          9:00 am – 5:00 pm
Tuesday         10:00 am – 6:00 pm
Wednesday    7:30 am – 12:00 pm
Private Health Funds
Many private health funds offer rebates for physiotherapy services. Bronwyn Jest Physiotherapy is registered as a health care provider with most of the major health funds so check with your private fund to see if they cover physiotherapy services.
Medicare Scheme
Bronwyn Jest Physiotherapy is a registered provider with Medicare. The Medicare scheme allows treatment for certain conditions to be covered by Medicare rebates.  If you are referred by your GP under the Medicare scheme, your GP will write a referral to Bronwyn Jest Physiotherapy and complete an Extended Practitioner Care Plan or Chronic Disease Management Plan for you. Under this plan you are eligible for a $55.10 rebate from Medicare per session for up to five sessions per year. Bronwyn Jest Physiotherapy is not a bulk billing practice so there will be a gap payment of fees. Full payment is to be made on the day of treatment and then the rebate claimed from Medicare.
Referral validity:
A referral is valid for the stated number of services. If all services are not used during the calendar year in which the patient was referred, the unused services can be used in the next calendar year. However, those services will be counted towards the five rebates for allied health services available to the patient during that calendar year. When all referred services have been used, or a referral to a different allied health provider is required, patients need to obtain a new referral.
Cancellation Policy
The patient is responsible for ensuring that they attend their scheduled appointment at the allocated time. Bronwyn Jest Physiotherapy offers appointment reminder texts for patients a few days prior to the scheduled appointment as a courtesy. However, it is the patient's responsibility to arrive on time for their appointment.
PLEASE NOTE: Patients will be charged a cancellation fee for non attendance of appointments or appointments cancelled with less than 24 hours' notice. 
Send a Message:
PHONE
0413 365 859
If the phone is busy please leave a voicemail.
EMAIL
mail@bronwynjestphysiotherapy.com.au
PLEASE NOTE: Include your contact telephone number so we can get in touch as soon as possible.
We aim to respond within 48 hours.
ADDRESS:
Lodgehill Health, 812 Gympie Road, Chermside with off street parking at rear accessed from Hamilton Road.
Bronwyn Jest Physiotherapy is in the same building as Martin Jest Dental Surgery.
Entrance to the clinic is on Gympie Road.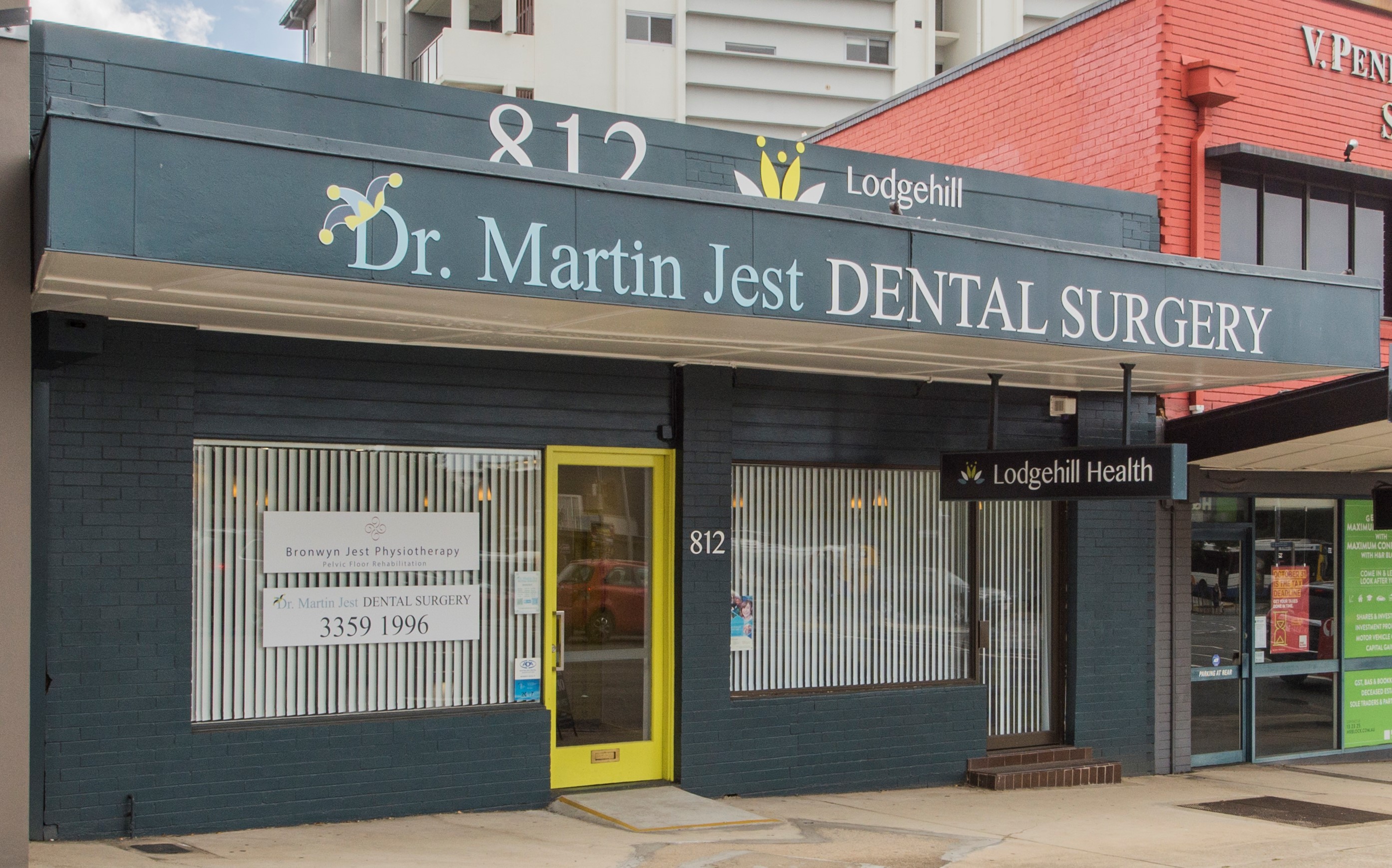 Parking is available behind the building.
Enter from Hamilton Road:
via the lane way
between the Thai restaurant and the Quadrant Apartment block
The parking is signed as LODGEHILL HEALTH / DENTIST PHYSIOTHERAPIST PARKING.